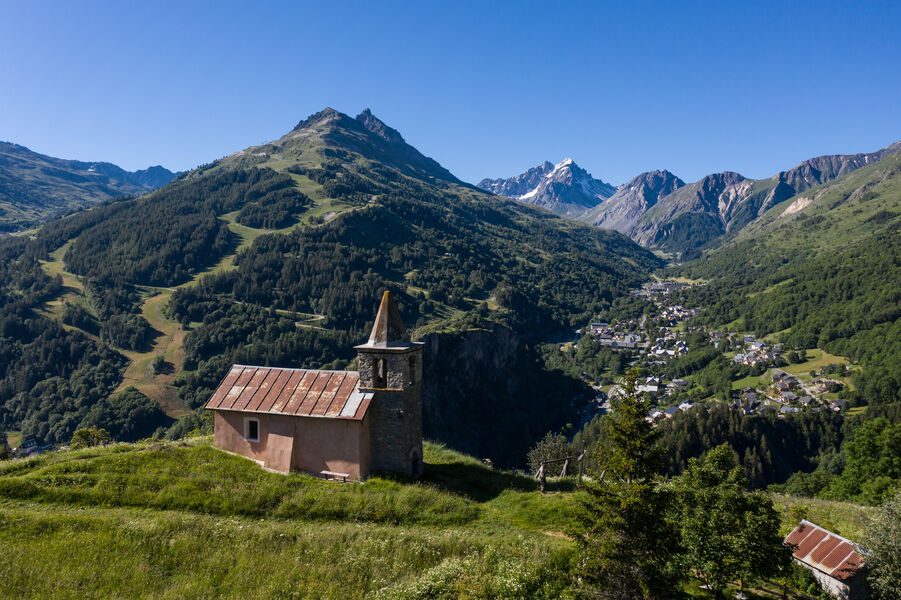 Description
Valloire has 17 chapels, all along the valley, from the Télégraphe pass to Bonnenuit.
Each hamlet had its own chapel, where, in May, we used to meet to honour the Virgin Mary, where we would celebrate the Saint's day, where the bell would ring the death knells...
In their present state, the chapels date from the 17th century and later.

The 17 chapels:
Notre-Dame de la Vie in Les Trois Croix
St Claude in Le Col
Ste Marguerite in Les Granges
St Benoît in Les Choseaux-ville
St Blaise in l'Archaz
Notre-Dame du Mont-Carmel in Geneuil
St Pierre sur le Rocher St Pierre
Notre-Dame des neiges in Bonnenuit
St Grat in Bonnenuit
Ste Agathe in la Rivine
St Claude in Les Verneys
St Joseph in la Ruaz
St Bernard in la Borgé
Ste Madeleine in Poingt-Ravier
St Thècle in Les Chaudannes (next to the campsite)
St Jacques in Les Villards
Notre-Dame du Bon Secours in Tigny

The chapels can only be viewed from the outside, with the exception of the Notre Dame de Bon Secours chapel in Tigny, where the doors are occasionally opened by the association who maintain it for a view of the interior.