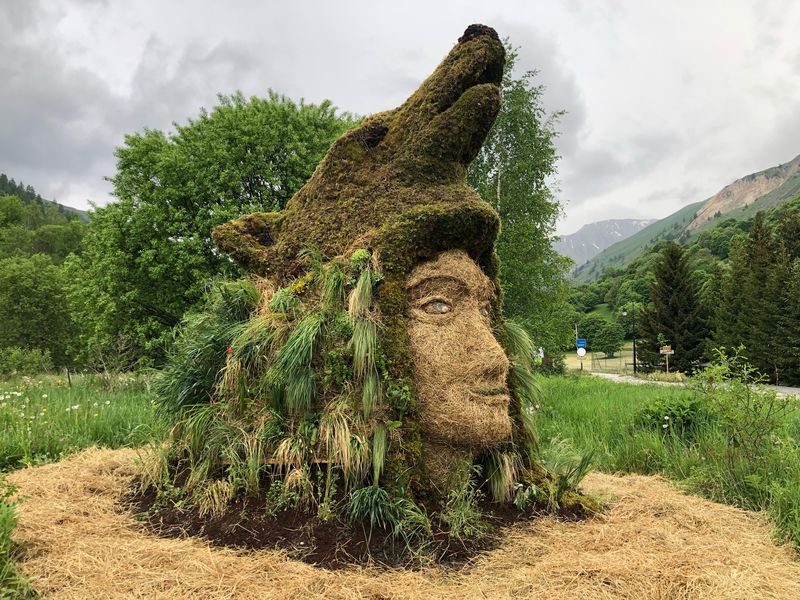 Description
MANANIMAL, FEMMANANIMAL
This innovative sculpture combining plants, earth and peat was created by Christian Burger, Sculptor & Visual Artist and Cynthya Jaeglé, Mountain Guide & Naturalist
This sculpture is offered to you by the Paille et Foin Valloire-Galibier association, in partnership with Valloire Tourisme and the municipality of Valloire.

The unique work that stands in front of you is at the same time innovative, experimental and evolving.

Innovative by the multitude of natural materials used: hay, perennials, grasses, mosses, lichens for its external appearance; peat, loam, soil for structural design.

Experimental by the association of materials making up the visible part of the sculpture: hay and living plants.

Scalable by growth, flowering and color variation of plants over the seasons.


Through its close history with sculpture and through the desire to pave the way for new creative discoveries, Valloire is the ideal place for such artistic expression to be experienced.
The idea of ​​setting up such a work here, in Les Verneys, was self-evident since the hamlet hosts the international ice sculpture competition every winter and the straw and hay sculpture competition every summer.


Have fun walking around the sculpture to try to recognize the different species present: strawberries, yarrow, poppies, squash, beans, blueberries, carnations, Valloire thistles...
Vegetal sculpture
Hameau des Verneys
73450 Valloire
Opening

All year round.