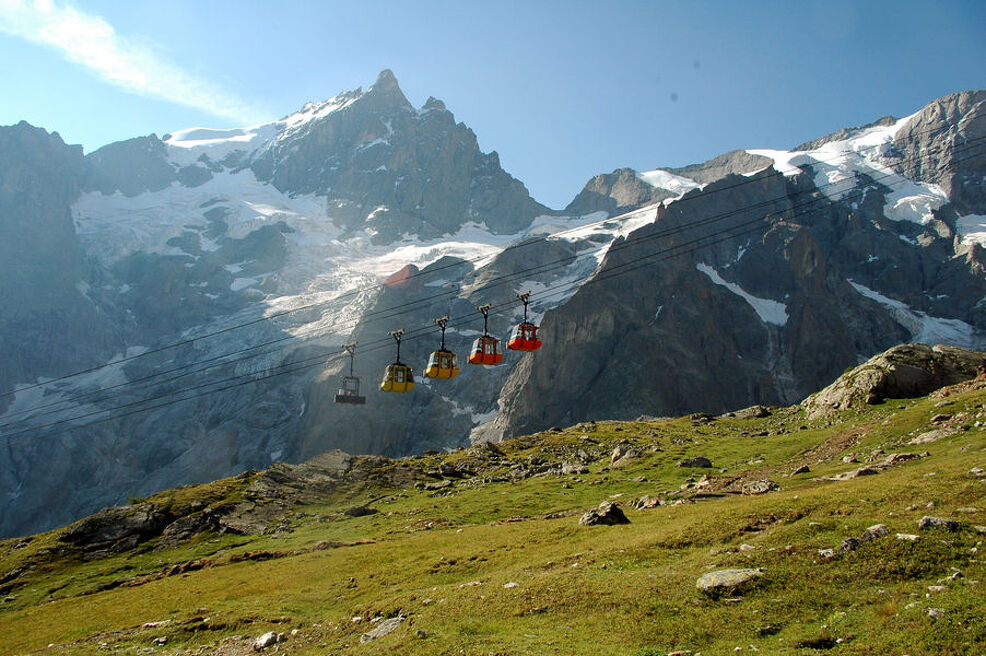 La Grave la Meije's cable car
Description
The cable car takes you up to the Ruillans Pass. At 3211m above sea level, the Girose Glacier where you will contemplate a grandiose panorama near the Meije Peak (3983m) and as far as the eye can see different peaks from Vercors to Mont Blanc.
2150 m difference from the botton to the top of the resort !
A majestic panorama awaits - to be discovered with family and friends. At the top you will find a restaurant with a terrace where you can sunbathe in a deckchair admiring the breathtaking view. Relax and enjoy !
With the Girose glacier at your feet, let your eyes travel from the Belledonne massif to the Thabor, passing to the Aravis and the Mont Blanc massif on the way. A stupendous 360° !
The gaping crevasses of the glacier may be approached roped up and in the company of a mountain guide ( see " Walks on the Girose Glacier", organized by the Mountain Guides Office).
There are hiking and mountain biking trails at your disposal, most of them start at the mid station (2400 m).
In the winter, the cable car gives you access to a unique off-piste ski area.

/!\ High-Altitude area: it is highly recommended not to bring children under 2 years old. /!\
Covid-19 special services
Disinfection of cars every days
Hydroalcoholic gel available in all stations and cleaning of hands before entering the cabins, Wearing of the mandatory mask for adults and children over 11 years old in the stations and in the cars, physical distance to respect in the stations
La Grave la Meije's cable car
D 1091
05320 La Grave
Opening

From 25/06 to 04/09/2022, daily between 7.30 am and 3.30 pm.

From 05/09 to 18/09/2022 between 8.30 am and 3.30 pm.
Closed Monday and Tuesday.

Réservation
Methods of payment

Prices

Group rate available for > 15 people.

❆ SUMMER

Panoramic pedestrian areas: from La Grave to 3200m:
• Family package (2 parents with child (ren) under 20) *: € 65
• Adult Cable Car Roundtrip: € 30
• Simple ascent or descent of 3200m in La Grave: 25 €

La Grave pedestrian at 2400m:
• Round trip 1st section: 20 €
• Simple ascent or descent of 2400m in La Grave: € 15

Pedestrians from 2400m to 3200m:
• Round trip 2nd section: 20 €
• Simple ascent or descent from 2400m to 3200m: € 15

Reduced fares :
• Round trip Cable cars for Children (<= 18 years old): € 20
• A / R Group cable cars (> 15 people): € 25

Ice cave:
• Adult: € 5.50
• Children and groups: € 4.50

Paragliding and mountain biking:
• Paragliding card> 5 climbs to 3200m: 100 €
• Mountain bike map> 5 climbs at 2400m: 65 €
• MTB package> 5 climbs at 2400m: € 27 *
* As soon as the second section is practicable, the fixed price will increase to 37 €

Dogs are accepted only if they are kept on a leash and muzzled: € 10 / dog / day.

Net prices, opening dates and conditions of sale given as an indication and subject to change (according to current VAT).