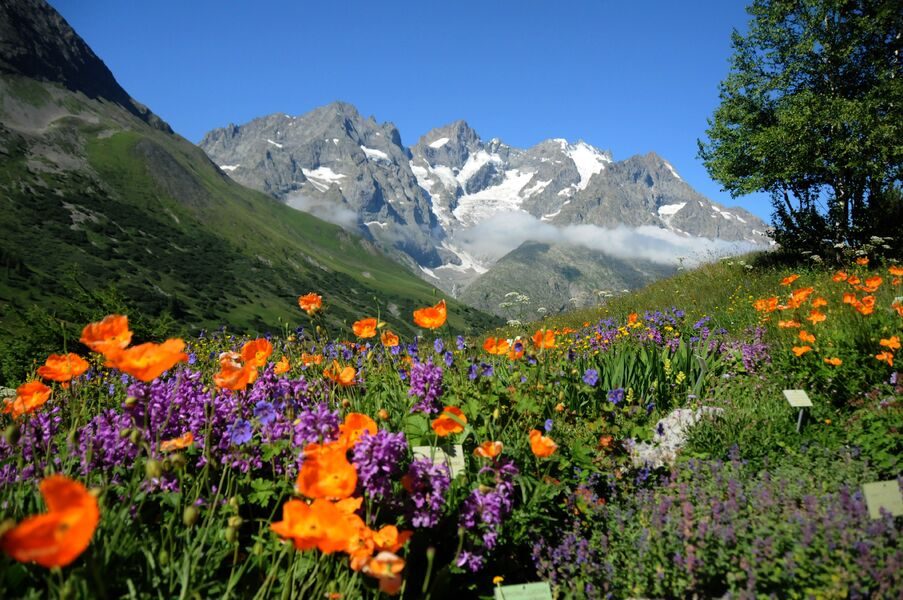 Description
The Lautaret Garden is a hundred year old gem presenting a concentration of plants from mountains all over the world, with a view of the glaciers of la Meije. Without doubt one the most beautiful Alpine botanical gardens of Europe!
From America to Asia, from Europe to Africa, South America... to the Poles. You will discover more than 2000 varieties that like the rough alpine climate, in a maze of recreated environments that change every year. Far from a classic botanical garden, this is a world tour in 80 minutes !

The Lautaret Garden is also a research station run by the CNRS and Grenoble Alpes University. Every year it welcomes tens of research teams from all over the world. These scientists come to study the consequences of climate change, agriculture and tourism. The « Discovery and Science » Route in the garden will tell you more about this. There is also and interpretation area in the Galerie de l'Alpe.

Guided tours are also included in the entry price:
- Daily in July and August at 10:30, 14:30 and 16h.
- Booking required for groups.
- Possibility of visits in June and September, by appointment at +33 (0)4 92 24 41 62

Shop : books, botanical illustrations, posters, postcards and plants (from early July to mid-August).
Tips
*Free entry for children under 12 years

* Guided tours every day in at 10:30; 2:30 pm and 4:00 pm.(included with the entry ticket )

* With the ticket of entry of the Jardin Alpin du Lautaret, you'll have a reduced price at the cable car in La Grave La Meije and vice versa !
The Lautaret Garden
Sommet du Col du Lautaret
Col du Lautaret
05480 Villar-d'Arêne
Réservation
Prices

Adult: 8 €
Teenager: 6 € (12 - 18 years)
Student: 6 €
Disabled: 6 € (60 % of the garden is accessible to people with reduced mobiity.)
Group adults: 6 €.

Free entry for children < 12 years.
Group rate available for > 10 people.

Free entry for students of universities, personnels of the University and the National Centre for Scientific Research.

Ambassador Card 15€: gives unlimited access during the whole season.The card is personal, the owner must present an ID.

Reservations required for groups 04 92 24 41 62.